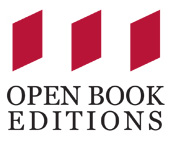 Open Book Editions
A Berrett-Koehler/iUniverse Partnership

Open Book Editions is a self-publishing partner of Berrett-Koehler Publishers. OBE welcomes publications that fit the Berrett-Koehler mission -- Creating a World That Works for All. At Berrett-Koehler, we believe that to truly create a better world, action is needed at all levels -- individual, organizational, and societal. At the individual level, our books help people align their lives with their values and with their aspirations for a better world. At the organizational level, our books promote progressive leadership and management practices, socially responsible approaches to business, and humane and effective organizations. At the societal level, our books advance social and economic justice, shared prosperity, sustainability, and new solutions to national and global issues. Here is a link to Frequently Asked Questions about Open Book Editions.
Readers
Readers - View Titles from Open Book Editions

Authors
There are many more aspiring authors who share our mission than we can sustainably publish as part of our traditional publications program. To serve these authors, Berrett-Koehler is partnering with the iUniverse brand at Author Solutions -- a leader in the assisted self-publishing field -- to offer authors a full-service self-publishing opportunity, with several publishing packages, each featuring an editorial evaluation, customized design, and digital formatting and distribution.
Below, Bill Treasurer shares his experience with Open Book Editions:


Please note that Berrett-Koehler will review manuscripts at submission to determine if the work supports our mission and fits within the topical areas described above. Works that contradict the BK mission or that do not fit within the topical areas will not be eligible for publication by Open Book Editions.
Self-Publishing with Open Book Editions offers authors who share the BK mission many benefits and competitive advantages. In addition to the professional services provided by iUniverse, Open Books Editions authors enjoy:
Open Book Editions Brand on Book: "Open Book Editions: A Berrett-Koehler Partnership" will be prominently featured on the back cover of the book along with the iUniverse logo. The back of the interior of the book will describe the Open Book Editions partnership between Berrett-Koehler and iUniverse.


Berrett-Koehler Review: Submitted manuscripts will be reviewed by Berrett-Koehler for their alignment to the BK and Open Book Editions mission. The review will take approximately 4 weeks. (Works that do not conform will not be eligible for publication by Open Book Editions.)

Sales of

Open Book Editions titles will be reviewed quarterly by BK staff, to determine if any publications warrant consideration for signing as a core BK publication.

Berrett-Koehler Listing on BKConnection.com: Open Book Edition books will be made available on the Berrett-Koehler website, BKConnection.com.

Berrett-Koehler Review for International/Translation Sales: All Open Book Edition books will be reviewed by Berrett-Koehler for potential translation rights sales.

Berrett-Koehler Authors Co-op Participation: Invitations to membership in the BK Authors Cooperative and participation in its member-based offerings.


Special Access to Berrett-Koehler Author Events and Activities: Authors will receive BK Book Club membership, eligibility for special Berrett-Koehler discounts, and invitations to participate in BK events and communities.
We hope you will consider self-publishing with Open Book Editions and look forward to welcoming you to the BK community.
More Information About Open Book Editions