About the Author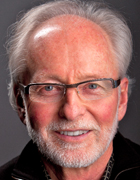 Richard J. Leider
Richard Leider is the founder of Inventure – The Purpose Company – and is ranked by Forbes as one of the "Top 5" most respected executive coaches, by Linkage as one of the "Top 50" executive coaches, and by the Conference Board as a "legend in coaching."
As a Keynote Speaker, he has helped more than 100,000 leaders from over 50 corporations such as AARP, Ericsson, Mayo Clinic, and MetLife discover the power of purpose.
Richard is the author of nine books, including three best sellers, and his work has been translated into 21 languages. Repacking Your Bags and The Power of Purpose are considered classics in the personal growth field. His newest book, Life Reimagined, has been touted as the breakthrough book on the "second half of life." He is a contributing author to many coaching books, including: Coaching for Leadership, The Art and Practice of Leadership Coaching, Executive Coaching for Results, The Leader of the Future, and The Organization of the Future.
Richard holds a Master's Degree in Counseling and is a Nationally Certified Master Career Counselor. As a Senior Fellow at the University of Minnesota's Center for Spirituality and Healing, he leads The Purpose Project. He is also a Carlson Executive Fellow at the University of Minnesota School of Management and a guest lecturer in the Harvard Business School.
Richard is quoted regularly in the Wall Street Journal, The New York Times, Fast Company, and on PBS public television, NPR public radio, and other media sources.
Richard's work has been recognized with awards from the Bush Foundation, from which he was awarded a Bush Fellowship and the Fielding Institutes Outstanding Scholar for Creative Longevity and Wisdom award. He was named a "Distinguished Alumni" by Gustavus Adolphus College, and to the "Hall of Fame" at Central High School.
For 30 years, Richard has led Inventure Expedition walking safaris in Tanzania, East Africa. He lives in Minneapolis, Minnesota.