About the Author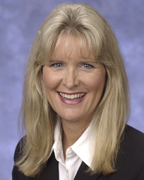 Vicki Halsey
Vicki Halsey is a spirited inspirational speaker, author, and compulsive teacher who energizes audiences worldwide by engaging their hearts as well as their minds. Her diverse resume includes over twenty years as a public school teacher, counselor, and school administrator. For the last fifteen years she has joyously served as Vice President of Applied Learning for The Ken Blanchard Companies, where she writes, facilitates, coaches, and gives keynote speeches in an effort to help people claim their greatness.
Vicki, a national champion platform diver, loves the rigor and practice needed to develop talent. She partners with organizations such as Nike, Pfizer, Microsoft, Gap, Procter and Gamble, Wells Fargo, and many more to develop their people through interactive workshops, keynotes, webinars, and numerous other classroom and e-learning experiences. She is the coauthor of Blanchard's Legendary Customer Service Training as well as their award-winning blended e-learning Situational Leadership II Program. In addition, Vicki crafted the highly acclaimed MSEL and EMBA degree programs for the University of San Diego and Grand Canyon University, respectively.
As an instructional designer, Vicki creates a power boost for thte cutting-edge content of well-known management gurus such as Marcus Buckingham, Keith Ferrazzi, and Ken Blanchard by infusing their work with optimal learning practices and innovative training materials. Brilliance by Design is a direct result of the work she has done with hundreds of brilliant authors and subject matter experts.
Vicki has coauthored Leading at a Higher Level with Ken Blanchard and other consulting partners and founding associates, as well as The Hamster Revolution: How to Manage Your Email before it Manages You and The Hamster Revolution for Meetings: How to Meet Less and Get More Done, both with Mike Song and Tim Burress.
Vicki, her wonderful husband Rick, and their sons Nick and Jake happily live in San Diego. To contact Vicki about a workshop or keynote address, please call 760-739-6917 or e-mail vicki.halsey@kenblanchard.com.