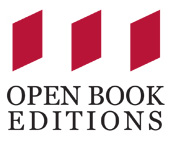 Open Book Editions
A Berrett-Koehler/iUniverse Partnership

Open Book Editions is a self-publishing partner of Berrett-Koehler Publishers. OBE welcomes publications that fit the Berrett-Koehler mission -- Creating a World That Works for All. At Berrett-Koehler, we believe that to truly create a better world, action is needed at all levels -- individual, organizational, and societal. At the individual level, our books help people align their lives with their values and with their aspirations for a better world. At the organizational level,our books promote progressive leadership and management practices, socially responsible approaches to business, and humane and effective organizations. At the societal level, our books advance social and economic justice, shared prosperity, sustainability, and new solutions to national and global issues.
There may be titles you would expect from Berrett-Koehler such as personal development (BK Life), business (BK Business), and current affairs (BK Currents) books, but there may also be some new categories that might surprise you. Some of our authors, partners, and readers have written poetry books, so these may be published as Open Book Editions titles. Others have written memoirs or fiction with a message of hope. Still others have written wonderful relationship or parenting books. Books in these categories may be published as Open Book Editions as well. We will profile new titles on this page with links to their corresponding iUniverse pages for purchase.
Readers- New Titles in 2014
Balanced Effectiveness at Work
By Paul Ohana and David Arnow, PhD
Look What Happened to My Pocket Change!
The Next Money Crash- And How to Avoid It
Legends and Stories for a Compassionate America
Are You Making Money for Your Hive?
Lessons in Getting Results Through Learning
By Karie Holton and Elwood Holton
Nine Commitments Every Leader Must Make
Indigenous Principles for Corporate Change
A Connecticut Cavalry Officer in the Civil War and Reconstruction
Roadmap to Retirement Security
How to Build and Conserve Retirement Wealth
Doing the Right Things for the Right Reasons
By Paul D. Houston & Stephen L. Sokolow
A Desert Railroad, a Wonder Metal, and the Making of an Aerospace Blacksmith
The Inclusion Revolution is Now
An Innovative Framework for Diversity and Inclusion in the Workplace
A Memoir of Spirit Communication
Where Leadership, Culture, and Profitability Collide
By Jeff Dudley