About the Author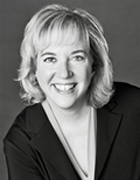 Leslie Yerkes
Leslie Yerkes has been advancing the cause of positive organizational culture for over twenty years, ever since she started The Catalyst Consulting Group with a mission to do "consulting with a conscience." Her interests are many but her vision for a workplace emboldened by empowered, enthusiastic employees and managers is singular.

Author of five books, including three for Berrett-Koehler, Leslie tends to run with her enthusiasms only after testing their viability in the rubber-meets-the-road environments of the organizations she consults with, be they small passionate non-profits or global Fortune 50 conglomerates. She nailed 'fun at work' with co-author Dave Helmsath way back in 1997, and revisited the concept with the essential Fun Works, Creating Places Where People Love to Work, in 2001.

In re-doing the book for a second edition, a lot of her experience and learning fueled a renewal of her enthusiasm. All of a sudden the idea of fun at work was not nearly as magnetic for her as was the conception of a soft science of organizational change, a conception for which fun and fulfillment were ingredients in a much more robust mix.

This mix was geared to provide a recipe for a richly complex, sophisticated and deeply human view about how to optimally support business success by supporting the success of the people that are the human core of the organization.

They Just Don't Get It: Changing Resistance Into Understanding, is of a piece with this too. The book addresses how communication can be undermined, while it provides practical techniques to explore and solve communication problems. There's little that can be changed in an organization unless stakeholders listen closely, and support their ow and each other's openness, and, are passionate about daring to do things—together-- differently.

As a consultant, author, thought leader, and keynote speaker, Leslie is all about deep change and other kinds of daring.