About the Author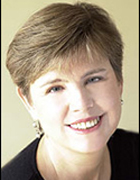 Sally Helgesen
Sally Helgesen is one of the world's brand name experts in the field of women's leadership and the author of five highly influential books. Her bestselling The Female Advantage: Women's Ways of Leadership, widely hailed as "the classic work" on what women have to contribute to organizations, has been continuously in print for 20 years, was translated into 11 languages, and is used in colleges and universities around the world. She is also the author of The Web of Inclusion: A New Architecture for Building Great Organizations, cited in the Wall Street Journal as one of the best books on leadership ever published.
Sally delivers keynotes and develops leadership programs for corporations, partnership firms, universities, and non-profits around the world. She has consulted with the United Nations Development Program on building more inclusive and decentralized country offices and strenghtening women's programs in Africa and Asia. She has led seminars at the Harvard Graduate School of Education and Smith College, and has been a visiting scholar at Northwestern University and Lauriston Institute in Melbourne, Australia.
Articles about Sally's work have been featured in Fortune, the New York Times, and Business Week, and she has appeared on hundreds of television and radio shows. She is a contributing editor to the magazine Strategy + Business and is a member of the New York Women's Forum.