About the Author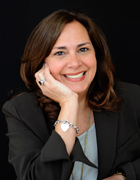 Kathy Caprino
Kathy Caprino, M.A. is a nationally-recognized women's work-life expert, executive and career coach, author, and speaker specializing in helping women gain empowerment and self-mastery to navigate successfully through major challenges. She is the author of the book Breakdown, Breakthrough: The Professional Woman's Guide to Claiming a Life of Passion, Power, and Purpose, which reveals the key findings from her yearlong national research study – identifying the 12 'hidden' crises of professional women, including chronic health problems, failure to find work-life balance, and painful losses of the 'real me.' It also shares 14 deeply personal stories – her own included – and shows how women are overcoming crises of personal and professional identity.

Founder/President of Ellia Communications, Inc. and former partner and co-founder of Living in Haromy – The Center for Emotional Health in Connecticut, Ms. Caprino is a sought-after writer and speaker on professional women's issues. She draws on her training in coaching and psychotherapy with families and systems, original research, high-level business experience, and work with hundreds of professionals each year to provide effective, targeted programs that help individuals and groups achieve growth in key areas of life and work.

For more information, please write to Kathy.

Visit Kathy's Breakdown, Breakthrough Website and Breakdown, Breakthrough Blog.