About the Author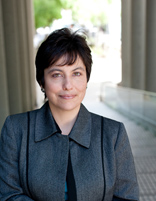 Elizabeth Doty
Elizabeth Doty is a consultant, coach, and facilitator specializing in how people participate in large organizations while staying true to themselves and being a positive force -- however they define those.
Since earning her MBA from Harvard and joining a reengineering firm in 1991, she has both subscribed to the "official story" of business and lived through the contradictions and absurdities of eneryday organizational life. Time in the trenches in a variety of industries, including 11 years in hospitality management, has allowed her to talk with over 400 people about the challenges, triumps and dilemmas of doing work they are proud of.
In late 1993 she founded WorkLore, a consulting firm that uses story and systems thinking to help leaders resolve complex operational and leadership issues. Current and past clients include Intuit, Camp, Dresser, McKee, Stanford University, Skillsoft, Hewlett Packard, Archstone-Smith, and CTB/McGraw-Hill.
Ms. Doty has presented at Systems Thinking in Action, the Business Ethics Network, and the Bay Area Society for Organizational Learning, and been published in the Pfeiffer HRM Annual and Strategy + Business magazine. From 2004-2006, she assisted Dr. William Ury in researching examples for his book, The Power of A Positive No.