About the Author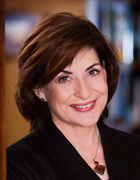 Marcia Reynolds
Dr. Marcia Reynolds works with clients around the world who seek to develop effective leaders. She understands organizational cultures, especially what blocks communication and innovation and what is needed to bring people together for better results. She has coached leaders, taught leadership and coaching classes, and spoken at conferences in 34 countries. She has over 30 years of experience in organzational training and development with over 20 years as an executive coach.
In her last corporate position, Marcia's greatest success story came as a result of designing the employee development program for a semiconductor manufacturing company facing bankruptcy. Working with the executive staff, the company turned around and became top performing IPO in the United States in 1993. Marcia focused on improving leadership communication and empowering cross-functional teams to become the heart of the organization.
Excerpts from her previous books, Outsmart Your Brain and Wander Woman: How High Achieving Women Find Contentment and Direction, have appeared in many places including Harvard Management Review, Employment Relations Today, Forbes.com, CNN.com, Psychology Today and numerous business publication in Europe and Asia, and she has appeared on ABC World News.
For coaching, Marcia works with both individuals and executive teams. Individually, she is often asked to coach leaders who technically excel but seek to develop their interpersonal effectiveness. After working with Marcia, her clients demonstrate remarkable improvements in engaging their teams and mastering influence with their peers and senior leaders.
Marcia is a true pioneer of the global coaching profession. She was the 5th global president of the International Coach Federation and one of the first 25 people in the world to earn the Master Certified Coach designation. She is the Training Director for the Healthcare Coaching Institute and has been a board member of the Association for Coach Training Schools. She has helped start coaching schools in Russia and China and continues to speak at coaching conferences around the world.
Marcia's doctoral degree is in organizational psychology with a research focus on high-achievers in today's corporations. She holds two masters degrees in education and communications.
In her rare spare time, she can be found hiking the beautiful mountains near her home in Arizona.
Find out more about Marcia's programs at http://OutsmartYourBrain.com