About the Author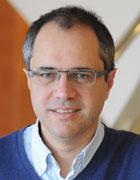 Tony Davila
Tony Davila heads the Entrepreneurship and Innovation Center as well as the entrepreneurship department at IESE Business School in Barcelona, where he also is a professor in the accounting and control department. He teaches courses in innovation management, entrepreneurship, management accounting and control, and sports management at the master, doctoral, and executive education levels. During 2013, he was the MBA Class of 1961 Visiting Professor at Harvard Business School. Previously, he was a faculty member at the Graduate School of Business, Stanford University, after receiving his doctorate from Harvard Business School. He has taught innovation and entrepreneurship around the world, including at Oxford University in England, HEC Lausanne in Switzerland, and CEIBS in China.
Dr. Davila is the coauthor of Making Innovation Work: How to Manage It, Measure It, and Profit from It (2006, 2013) and Performance Measurement and Management Control Systems to Implement Strategy (2000). He also is the coauthor of Malea Fashion District: How Successful Managers Use Financial Information to Grow Organizations (2009, 2012). In addition, he edited The CreativeEnterprise (2007). He is a prolific author of teaching cases with companies such as Checkpoint, Logitech, FC Barcelona, Siebel Systems, CitiBank, and Salesforce.com.
His work has been published in diverse journals, including Harvard Business Review, California Management Review, Journal of Business Venturing, and Research Policy. He has received IESE's research award three times, and his dissertation was distinguished by the American Accounting Association. His latest article in California Management Review received the Accenture Best Paper Award, 2010. He was also a finalist for the McKinsey Best Paper Award from the Strategic Management Society. The Spanish government awarded him the Ramón y Cajal scholarship for his work. Dr. Davila serves as an advisor and consultant to companies in Europe and North and South America, ranging from large multinationals to venture-backed startups.