About the Author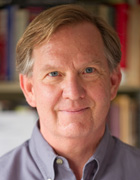 Brad Edmondson
Brad Edmondson is a writer and consultant who helps people and organizations understand and benefit from social change. He is fascinated by how change happens, and why. A few years ago, while writing about New York's six-million-acre Adirondack Park, Brad learned that the wilderness preserve at the core of it was once privately owned. The land reverted to state ownership after loggers cut down all the trees and walked away. Now the park is the crown jewel of the Empire State, thanks to one far-sighted law, a vigilant public, and one hundred growing seasons.
Brad was raised in rural south Florida, on a farm that was established in 1923 and is still operated by his family. He attended Deep Springs, a college with an unusual curriculum that trains students for lives of service. By the time Brad got a history degree from Cornell in 1981, he knew he wanted to be a writer and storyteller. Instead of going to graduate school, he took editorial jobs at the Ithaca Times (1981–85), a weekly newspaper that covered peace and social justice issues, and American Demographics magazine (1985–98), a monthly Dow Jones magazine that explained the impact of population change and consumer trends on businesses, organizations, and society. During Brad's tenure as editor in chief of American Demographics, the magazine was nominated three times for the National Magazine Award for General Excellence.
Brad's articles have appeared in AARP The Magazine, American Scholar, Utne Reader, and Atlantic Monthly. His recent corporate clients have included Head Start, Honda, the National Bicycle Dealers Association, and the Private Label Manufacturing Association. But he keeps returning to the power of long-term, multigenerational commitments. While serving on the board of the Finger Lakes Land Trust (1994–2007), Brad helped create a fifty-year plan for a regional network of protected land in a scenic region of Upstate New York. He also helped manage an endowment while chairing the investment committee of Deep Springs College (2000–2010). These visionary organizations taught Brad the power of good stewardship and managing for perpetual return. Brad also noticed that people who are devoted to the greater good usually lead fun and exciting lives, have lots of interesting friends, and have more inspiring funerals.
Brad has two grown children, Will and Emma. He lives in Ithaca, New York with his wife, Tania Werbizky, who works in the field of historic preservation. They daydream about cross-country skiing or bicycle touring, depending on whether or not there's snow. Current trail conditions are posted at Brad's website, www.bradedmondson.com.