About the Author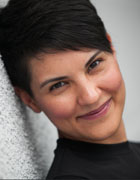 Nadya Zhexembayeva
Dr. Nadya Zhexembayeva is a business owner, author, and educator working at the intersection of innovation, leadership, and sustainable growth.

As a business owner, Nadya oversees a group of companies active in real estate, investment, and consulting industries. Her recent client engagements include The Coca-Cola Company, ERG (formerly ENRC PLC), Erste Bank, Henkel, Knauf Insulation, and Vienna Insurance Group.

Until April 2014, Nadya also served as the Coca-Cola Chaired Professor of Sustainable Development at IEDC- Bled School of Management, an executive education center based in Slovene Alps, where she continues to teach courses in leadership, strategy, change management, design thinking, and sustainability. In addition to IEDC, Dr. Zhexembayeva has taught in a number of other business schools, including CEDEP-INSEAD (France) and IPADE (Mexico).

Dr. Zhexembayeva chairs Resourcefulness Advisory Board at OMV, an oil and gas company, and sits on the Advisory Board of Fowler Center for Sustainable Value at Weatherhead School of Management, Case Western Reserve University. She also serves as Vice-President of Challenge:Future, a global student think-DO-tank and innovation competition.


She is the coauthor, together with Chris Laszlo, of Embedded Sustainability: The Next Big Competitive Advantage, published by Stanford University Press in the US and Greenleaf Publishing in the UK.