About the Author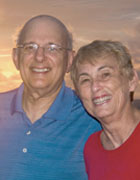 Richard H. Axelrod
Who are Dick and Emily?
Dick and Emily Axelrod have been together for more than forty-five years. They met in 1967 in Pusan, Korea, where Dick was serving in the US Army as a signal officer and Emily was teaching children at Pusan American High School. Friends often ask, "Was it like MASH?" MASH was not far from the truth. They soon fell in love and were married in September of 1968. Since then, they have raised two children, Heather and David, and became the doting grandparents of Zach and Andy. Along the way, they formed the Axelrod Group, Inc., in 1981, a consulting firm that pioneered using employee involvement to effect large‑scale organizational change. While they bring different perspectives to their work, they are totally aligned when it comes to wanting to leave the world a better place than they found it.
What do you get when you combine Dick + Emily?
During their life together, they have had many dinner conversations about the best way to improve the world. Dick has believed that if you could bring dignity into everyone's work experience, where people knew their voices counted and their hearts and minds were engaged in the work, there would be positive impacts on families and ultimately the society as a whole.
Emily would counter that the way to improve the world was to improve families because strong, healthy families are the cornerstone of society. With Dick and Emily, you get an unusual combination of a kid raised on Chicago's South Side (Dick) and someone who brings her folksy southern wit and spirit to the work (Emily). You get the discipline of Dick's engineering-based education from Purdue University and a master's in business from the University of Chicago and Emily's grounding in physical education from the University of North Carolina at Greensboro and education from the University of North Carolina at Chapel Hill, along with the heart of a family therapist (master of social work) from Loyola University Chicago.
Dick's early experiences in his father's model airplane factory and at General Foods—one of the first companies in America to use self-directed work teams—had a great impact on him. Emily's roots in Wilmington, North Carolina, gave her a sense of community and how people in communities work together for the common good.
Recognized worldwide, they have received awards from Benedictine University, the University of Chicago, and the Organization Development Network.
Throughout the years they have shared what they know by teaching others at American University, Benedictine University, Columbia University, and the University of Chicago, to name a few.