About the Author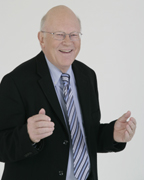 Ken Blanchard
Few people have impacted the day-to-day management of people and companies more than Ken Blanchard. A prominent, gregarious, sought-after author, speaker, and business consultant, Dr. Blanchard is universally characterized by his friends, colleagues, and clients as one of the most insightful, powerful, and compassionate people in the business world today.
From his phenomenal best-selling book, The One Minute Manager (coauthored with Spencer Johnson)—which has sold more than thirteen million copies and remains on best-seller lists—to the library of books coauthored with outstanding practitioners—Raving Fans, Gung Ho!, Leadership and the One Minute Manager, Whale Done!, and many others—Ken's impact as a writer is extraordinary and far-reaching. Ken is the chief spiritual officer (CSO) of The Ken Blanchard Companies, an international management training and consulting firm that he and his wife, Dr. Marjorie Blanchard, founded in 1979 in San Diego, California. He is also a visiting lecturer at his alma mater, Cornell University, where he is a trustee emeritus of the board of trustees. Ken is the cofounder of Lead Like Jesus, an organization committed to helping people become servant leaders around the world.
Ken and Margie, his wife of more than fifty years, live in San Diego. Their son Scott, his wife, Madeleine, their daughter Debbie, and Margie's brother, Tom, hold key positions in The Ken Blanchard Companies.