About the Author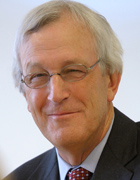 B. Joseph White
B. Joseph (Joe) White is James F. Towey Professor of Business and Leadership and President Emeritus at the University of Illinois and Dean Emeritus of the Ross School of Business at the University of Michigan. He teaches U.S. corporate governance to graduate business and law students at Illinois. He is the author of The Nature of Leadership: Reptiles, Mammals and the Challenge of Becoming a Great Leader (AMACOM, 2007).
Joe is a trustee and chair of the corporate governance committee of Equity Residential, Inc. (NYSE:EQR). During his service, EQR has grown from an enterprise value of $800 million to over $30 billion, delivered annualized total shareholder return of 13 percent and become an S&P 500 company.
Joe is a director of Gordon Food Service. During his service, GFS has grown from $400 million to over $10 billion in revenue and become one of America's 40 largest private companies. He helped create governance arrangements intended to enable GFS to thrive in perpetuity as an independent family business.
Joe has extensive experience on corporate and nonprofit boards including Kelly Services, M Financial Holdings, W.E. Upjohn Institute for Employment Research, Argonne National Laboratory, American Council on Education, National Merit Scholarship Corporation and Georgetown University.
Joe was the sixteenth president of the University of Illinois from 2005–2009. He served as dean of the University of Michigan Business School (now the Ross School of Business) from 1991 to 2001. He has private sector experience, including six years as an officer of Cummins, Inc.
Joe brings to Boards that Excel background as an influential force in business education and talent development. As dean at Michigan, he integrated action learning into MBA studies, creating the first new curriculum model since introduction of the case method. Joe touched off movements in the business school world that elevated corporate citizenship and increased the ranks of women and minority executives.
In Boards that Excel, Joe blends governance research with practical experience and shows how to turn knowledge into action. He urges corporate and nonprofit directors to set high aspirations and provides practical advice on how to achieve them. He shares the wisdom of experienced directors through candid and insightful interviews.
Joe is a graduate of Georgetown University, Harvard Business School, and the University of Michigan. He and his wife, Mary, have two children and five grandchildren.