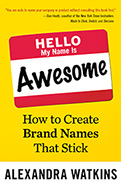 BONUS: The first 10 people to register will receive a free signed paperback book or downloadable eBook.

No investment you make in your business will last longer or get used more than the name. Don't get stuck with one that looks like the result of a drunken Scrabble game. In this engaging and enlightening presentation, ace naming consultant Alexandra Watkins shows how anyone - even non-creative types - can create memorable, buzz-worthy brand names and domain names.

This is going to be a fun and entertaining presentation!

Packed with real life examples and war stories from the trenches, you'll discover the secret to powerful names including:

How to avoid costly naming mistakes
How to evaluate the strength of any name in 15 seconds
Domain name strategies & secrets that will save you thousands
Why old school names no longer work
Where to find free brainstorming resources online

And more!

You'll see examples of the good, the bad, and the "so bad she gave them an award." Alexandra Watkins is not afraid to name names.

Whether you're naming a new business, reconsidering naming the one you have, or just want to be entertained, this is an event you don't want to miss.