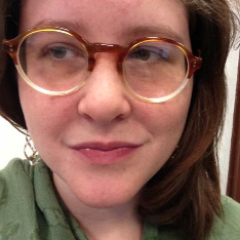 Charlotte Ashlock
Charlotte Ashlock is Berrett-Koehler's Digital Producer & Editor. She develops digital companion products for Berrett-Koehler books, serves as webmaster, writer, & content curator for the Berrett-Koehler website, and contributes to manuscript shaping. She works for the Digital Division of the Editorial Department. This division explores ways for Berret-Koehler to use innovative technolologies and interactive learning to push the limits of the traditional book.
Charlotte studied Science, Technology, and Society at Bard College, where she did her senior thesis on the ecovillage movement; you can read her thesis here. Her research for her thesis included so many Berrett-Koehler books, she got interested in working for the company and became an Editorial Intern.
When her internship was complete, she did an Americorps program in Rochester, NY, running after-school library programs for inner-city teenagers. Then she served as the Web Associate for The Public Interest Network, peforming digital services for nonprofit groups like Environment America and U.S. PIRG. When a position opened up at Berrett-Koehler, she returned.
Charlotte is a life-long bookworm and a passionate supporter of authors, especially Berrett-Koehler authors. In her time away from work she enjoys reading and writing Young Adult fantasy and science fiction. She is very active on social media and always up for a chat.